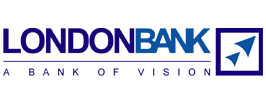 London Bank is primarily a banking products company, however at present, we do not offer any products and services to the public and we will not do so until we meet all our regulatory requirements.
We appreciate your visit to our website. However, our core product will be public sector infrastructure financing, once we come into operation. Thank you.


E-mail: info@london-bank.com

Registered office, 343 Caledonian Road, London, N1 1DW

London Bank Ltd. is registered in England.
Registration No: 6396997
VAT Registration No: 924521832

Copyright ©2016. ondon Bank Ltd. All rights reserved.